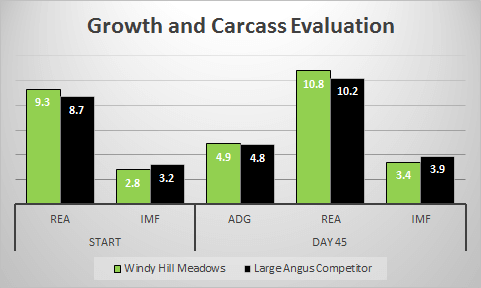 The objective of our beef genetic improvement program is to produce elite, sound breeding animals that promote profitability by optimizing growth and reproduction functions within the herd. The purebred Angus nucleus herd is improved with the aim of each generation having increased carcass muscle with a reduction in feed utilization for the carcass produced. In addition, animals must promote sustainability through a docile response to handling as well as a desire to thrive through production challenges.
The operation measures traits of our animals in both fescue-based grazing and bed-packed barn environments, and therefore, genetic improvement of the herd's production capacity may be realized within a broad range of commercial environments with confidence. We measure with strict discipline key traits that are critical to sustainable reproduction, optimal growth, and quality carcass performance.
Genetics can be accessed through a wide range of distribution techniques including; embryo transfer, frozen semen, bulls, heifers, and cows. Please contact us to support you with profit seeking genetic solutions for your operation.